High School Dress Code Agreement and Expectation
The following uniform agreement for free dress has been put in place for high school students only. If the following requirements below are not met, the traditional DMLK uniform policy will be enforced.
Students must be passing ALL classes
Have LESS THAN 10 absences in any individual class
Meet the behavioral expectations of the school (No referrals or habitual discipline issues)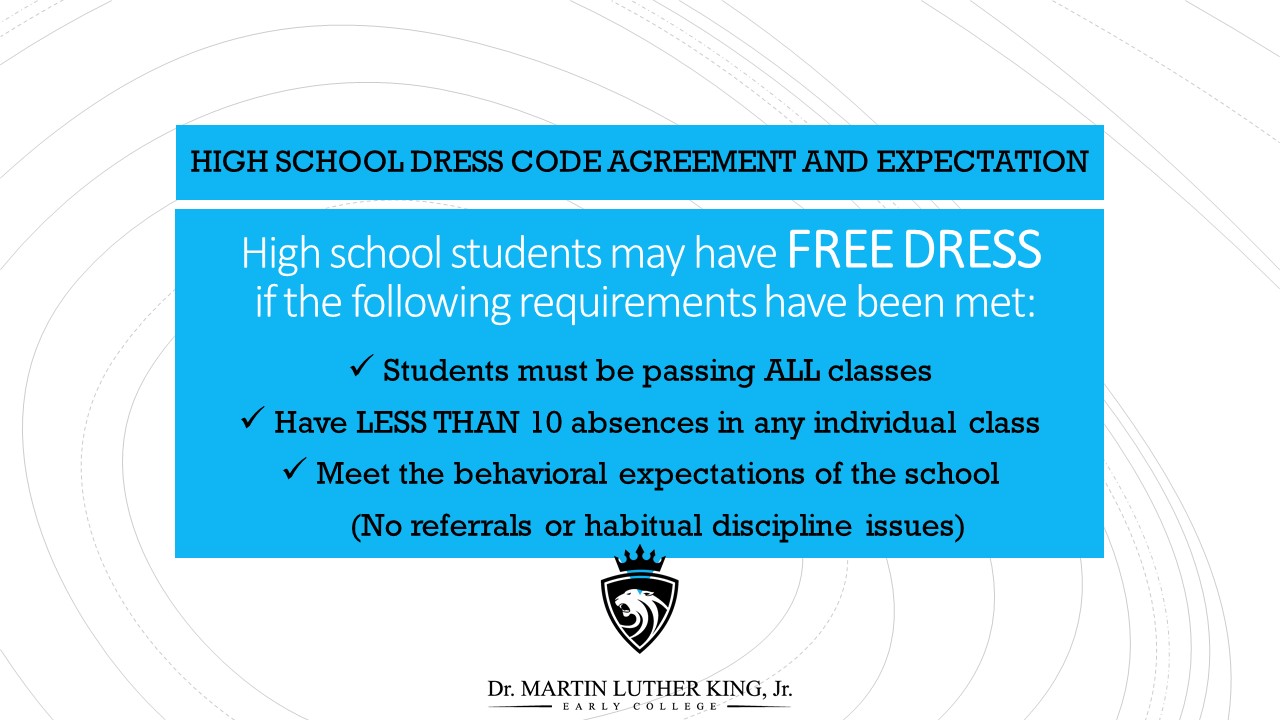 ---
Uniform Policy
Collared Shirt
Blue, black, white, or grey
Any combination of those 4 colors
No PE shirts
Bottoms
Black only – Black denim is acceptable
Shorts and skirts need to be at least past the fingertips or mid-thigh whichever is longer
No workout pants, gym shorts, yoga pants, or pajamas.
Leggings CANNOT be a top layer
Top
Jackets, vests, and sweatshirts DO NOT count as a collar.
No middle school sport hoodies- Only Montbello and MLK sport clubs are okay
Scarves are okay IF a collared shirt is present AND the scarf is blue, black, white, grey
No cleavage
No hats, berets, beanies, etc.
Shoes
NO flip flops, house shoes, or slippers
Electronics
May be used during lunch or off periods
All electronics (including headphones) should not be visible in class. They must be in your locker or backpack. Your pocket does not count!
Additional Notes
Athletes can wear jerseys ONLY on game days
Bottom must still follow dress code
Dressing up means dress pants or skirt/dress and blouse or button up shirt
School spirit shirts are acceptable